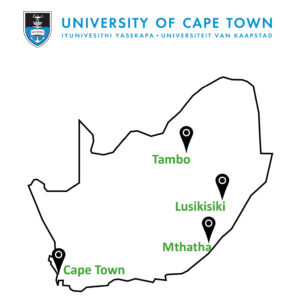 The South African AWACAN-ED team is based in the Faculty of Health Sciences, University of Cape Town. The multidisciplinary team consists of researchers with experience and expertise across the fields of primary care, cancer research, health systems research, health economics and public health, who share interests and passion for advancing early cancer diagnosis in Africa.
The public sector health care system in South Africa has three tiers – primary, secondary and tertiary. Typically, patients with possible cancer symptoms self-present to primary health care clinics and are assessed by a nurse (although some clinics might have access to a medical officer). Patients assessed as having possible cancer symptoms are then referred to secondary level regional/district hospitals for investigation. Depending on resources (mammography, colonoscopy, imaging facilities, general surgeons, specialist surgeons etc.) patients might be diagnosed and treated at this level or referred to a tertiary level facility for further diagnostic investigation and treatment as secondary level hospitals do not have radiotherapy or chemotherapy services.
In some cases, patients may be referred directly from primary care clinics to outpatient clinics in tertiary facilities. In South Africa we will work in two of the country's nine provinces (Western and Eastern Cape) with significantly different socio- economic, demographic, disease burden and health system characteristics.
Research sites for this project are selected from the Eastern and Western Cape Provinces across the tertiary, secondary and primary levels of care. In the Western Cape, the team will be conducting research in Groote Schuur Hospital (a tertiary-level hospital, photo by Page Polzer), Somerset Hospital (a secondary-level hospital) and four primary care clinics (two of which are owned by the City of Cape Town) referring to Somerset Hospital. The Eastern Cape sites include the Nelson Mandela Academic Hospital (a tertiary- level hospital) in Mthatha, St Elizabeth Hospital (a secondary-level hospital) in Lusikisiki and three primary care clinics in the Oliver Tambo District referring to St Elizabeth Hospital. The group is working closely with a team of collaborators at both facility-level and provincial/city levels.